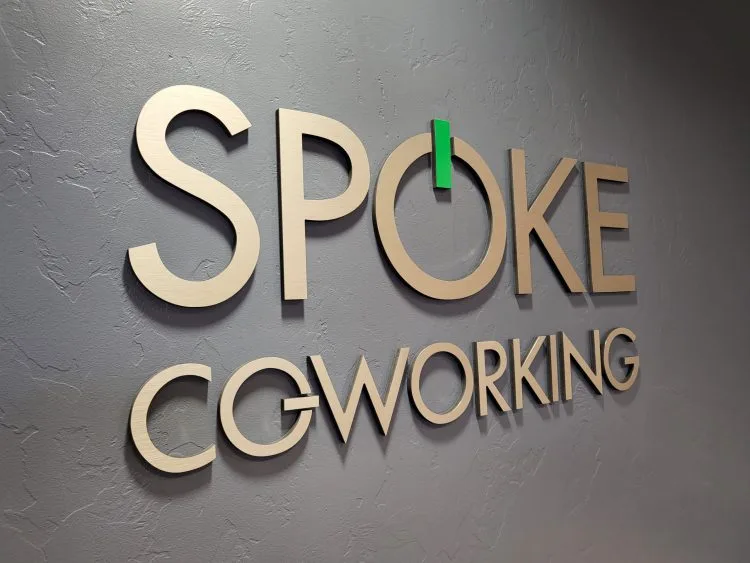 Why Did We Create Spoke Coworking?
Spoke Coworking was created to fill a need for shared office space in Tucson as seen by the owners of Inphonite.
Owning an established tech company, with a lease ending, these entrepreneurs were in the market for new office space. After leasing office space for many years and working from home intermittently, there was a laundry list of things that they knew they wanted and needed in a new space.
Outlining Coworking Space Wants and Needs
At that time, in a shared office building with other tenants regularly asking for the thermostat to be set to 60 degrees, on top of the list was the ability to set their own heating and cooling controls, or even have different offices with different temperatures, keeping the Sales team cool, and the Marketing group a little warmer. Imagine!
There was an additional need for everyone to have their own private and safe office space they could either work at full-time or part-time. Also, a few coworkers only wanted to come in for meetings and special events, and on those days, those same people may work at the office the whole, or only part of the day. Nothing that flexible existed that checked all of their boxes, so they decided to create it for their business and others like them.
As one owner describes it, "We want to create shared office space in Tucson unlike any available, giving professionals the opportunity to experience new things at work, while also providing flexibility to work when and where people want. The idea is a bit of a cross between an airport lounge, a meetup event, a traditional office, and even a rec room."
Back to that bucket list of elements for their plan, the list continued to grow. They knew there was a lot they would want to include:
Individual private and shared team offices of varied sizes
Tons of windows to allow natural light
A large outdoor space to work or take a break
A kitchen with plenty of storage space
Lounge space to collaborate, eat, or relax
Formal & informal conference rooms
An area for fun, to blow off steam, or have larger group events
A recording studio
Storage
An IT room
High speed internet
A location on a major street
Near a bus stop
Ample parking and somewhere for EV charging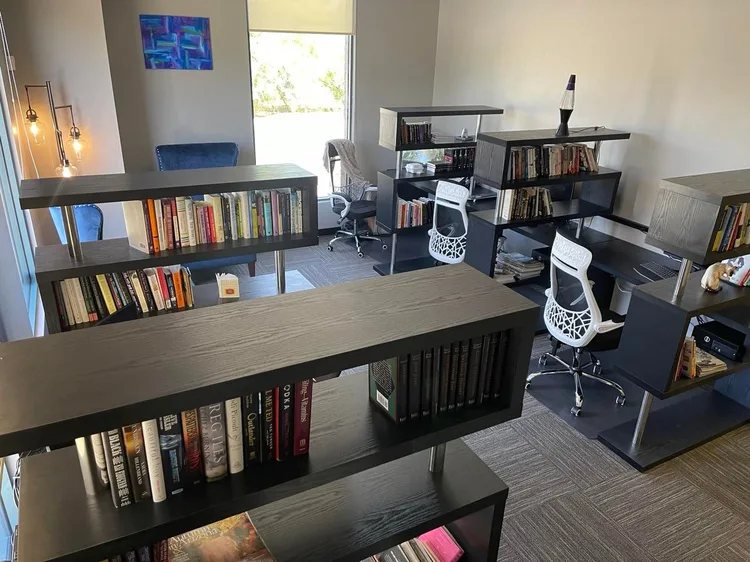 The Excitement
That was just the building space needs. It barely scratched the surface of their ideas for furnishings and membership offerings, let alone community! Ideas flowed nonstop.
As a top priority of the build-out was a beverage station. Good coffee, tea and water, was a definite must for furnishing and membership perks. The brainstorming and excitement for this project became palpable as the comprehension and excitement of everything they wanted and would need to do took shape.
It was important that they have ownership allowing them to make final decisions on security systems, cleaning and repairs—all things that fell flat in some of the other offices they leased previously. So, instead of focusing on renting a floor in a tall building, the hunt for a unique co-working space with all the bells and whistles, was on.
The Search
They found one place they quickly fell in love with, but it was not meant to be. It was but a shell of a building that someone abandoned long ago. It would need an elevator and all new windows and doors. It was good that their offer was rejected, because it lead them to finally look at 6700 E Speedway, in Tucson.
While searching, they had a strong feeling this space would be perfect and not require too much work, but something kept holding them back from even touring this office space. When they finally did, they discovered a hidden gem. How many times had they driven this same street without even noticing this office building? Being built only 16 years ago (which isn't long in building time), it felt nearly new. With many private offices in varying sizes already built, and sunlight glowing through nearly every office, they saw the potential for the perfect shared office space at 6700 E Speedway, the moment they walked in the door.
How We Stand Apart
Our concept for Coworking space in Tucson differs from others in that we want to focus on Hybrid Coworking and meet our members where they are. Whether that means our great east side location or their specific personal needs for shared office space—we want to be there.
We plan on having some exciting office options available, as well as some unique elements to our membership and lounge. We're so excited, we almost don't want to make our ideas public yet, because to our knowledge, some of it has never been done in coworking spaces in Tucson before and being new to the industry, we don't want our concepts copied just yet.
The Name
Many have heard of the hub-and-spoke model for businesses, where the hub is headquarters, and the spokes are any other business locations. More recently, the Spokes in this model have become employees' homes, yet people still have a need to be among others, or even just leave their homes from time to time; and, work also needs to be completed. We want to be a spoke to any business, therefore Spoke Coworking seemed very fitting. (It has nothing to do with bicycles, unless you want to ride to the office and lock up your bike on our built-in bike rack out back.)
Anyways, now you know about us. Let us know about you and how we can meet you where you are, so we can help make your workday an amazing office experience!